Weight Loss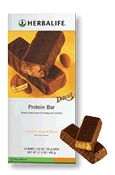 Protein Bars - Deluxe
These rich and chewy bars are packed with essential vitamins and 10g of healthy protein to keep you feeling full while helping build and maintain lean muscle. Three popular flavor combinations covered in rich chocolate coating satisfy your cravings.
Key Benefits:

10g of protein to sustain your energy and satisfy your appetite
Vitamins E, B6, B12, Niacin, Thiamin, and Riboflavin
Zero trans-fats
No artificial sweetners
Just 140 calories per bar

Usage:

One to two bars a day for weight management and healthy snacking.

The products and descriptions shown on this page are available for distribution and sale in United States of America only.

These statements have not been evaluated by the Food and Drug Administration. This product is not intended to diagnose, treat, cure or prevent any disease.

Protein Bar - Deluxe
More Samples Now Available! We're giving away more samples through December, 2023!
[
Home
]
Request Your Free* Herbalife Protein Bar!
You must provide a valid phone number and email address to be eligible for this offer!

Recommended Products - Weight Loss
Recommended Products - Fitness
Recommended Products - Skin Care